The Archives of the Anglican Church of Canada has provided web search access to some of their collections for many years, but it was time for a refresh to keep up with current expectations. Situations like theirs are all too common, with issues such as:
each of several databases had to be searched separately, one at a time;
the separate search interfaces were dated, with a restrictive searching syntax;
the graphic design no longer matched the main website;
the layout was not responsive for viewing on tablets or phones;
there was a desire to put up additional content; and
the server that was home to all the software and data was due for replacement as both the hardware and operating system were aged.
Undertaking these updates was a somewhat daunting prospect for the archives staff, with little time or experience to work on the necessary changes. However, Andornot has worked with the Anglican Church for many years, and over several months developed a plan for the updates that fit with both Archives and IT staff requirements. The result is a modern, functional new single search portal that will be of benefit to anyone interested in the records of the church.  
The new site is now available at https://archives.anglican.ca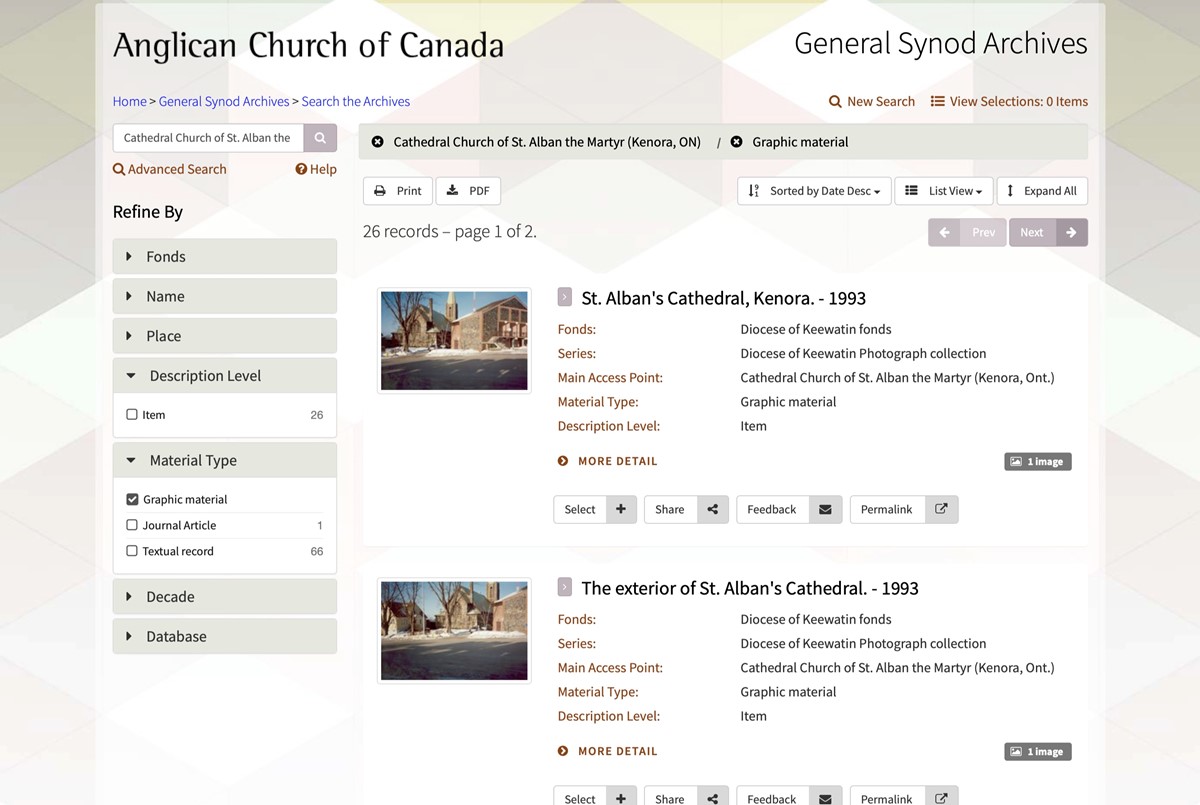 Rather than simply migrate everything to a new server as-is, the archives and the Church's IT staff took this as an opportunity to make substantial improvements. To help fit the work into everyone's busy schedules, the project was divided into two phases, making each half more manageable.
In the first phase, Andornot provided a methodology to help staff analyze their multiple existing Inmagic DB/TextWorks databases and determine data clean-up options. We worked with IT staff to provision a new server with a fresh installation of the latest version of DB/TextWorks. Databases were migrated, client workstations updated, menu screens linked, and the system otherwise made ready for use. This provides the archives with a stable, up-to-date, clean system that should run well for many years to come.
In the second phase, we built a new search interface using our Andornot Discovery Interface. The new system allows users to explore and research archival descriptions, official statements, press releases, journal articles and photographs. Additional databases managed in DB/TextWorks may be added over time.  
The software is hosted on the Church's servers but during the design phase we hosted it locally to simplify making modifications during the rounds of feedback, and reducing the involvement needed from IT. We also offer long-term hosting for clients who don't have their own servers or the staff and resources to manage them.
The new site design is clean and simple and now coordinates with the look and feel of the main Anglican Church website. In addition, the seamless, single search across the formerly separate databases is both easy to use and encourages serendipitous discovery of information from unexpected sources.
The General Synod Archives has already seen many researchers using the new search engine and requesting information and photographs. We have received compliments on the layout and information included, as well as the benefits of having each entry tagged so that we know exactly what the researcher is requesting without having to redo the search. The new search engine has made it a lot easier for us to make our photographs available for research and selection. Searching by rough dates and being able to break them down using the decade facet produces faster results. Indeed the various facets for refining the search have been a bonus.

the archivists of the General Synod Archives, Anglican Church of Canada
As with all our Andornot Discovery Interface projects, this site for the Anglican Archives now provides the best possible search experience, and includes the following features we now regard as essential in a modern search interface:
Automatic spelling corrections and search suggestions.
Relevancy ranked results with additional sort options.
Facets to easily narrow or refine a search.
Easy sharing of records or photos on social media such as Facebook and Pinterest.
Add to list option to select records.
Responsive layout for use with tablets and smart phones.
Accessibility for users with disabilities.
We're always available to discuss upgrades to your DB/TextWorks-based systems, or enhanced search interfaces for any collection using one of the several software systems we support. Send us a link to your current search interface and we'll get back to you with our evaluation!