Since 1967, the Bulkley Valley Museum has built up a permanent collection of artifacts and documentary heritage materials that represent the human and natural history of the Town of Smithers, British Columbia, and the surrounding Bulkley Valley. This collection is available online at https://search.bvmuseum.com
Andornot initially helped the museum to upgrade their DB/TextWorks-based collection management system, using our Andornot Starter Kits for archives and museum artifacts. We then used the Andornot Discovery Interface to build and host the site.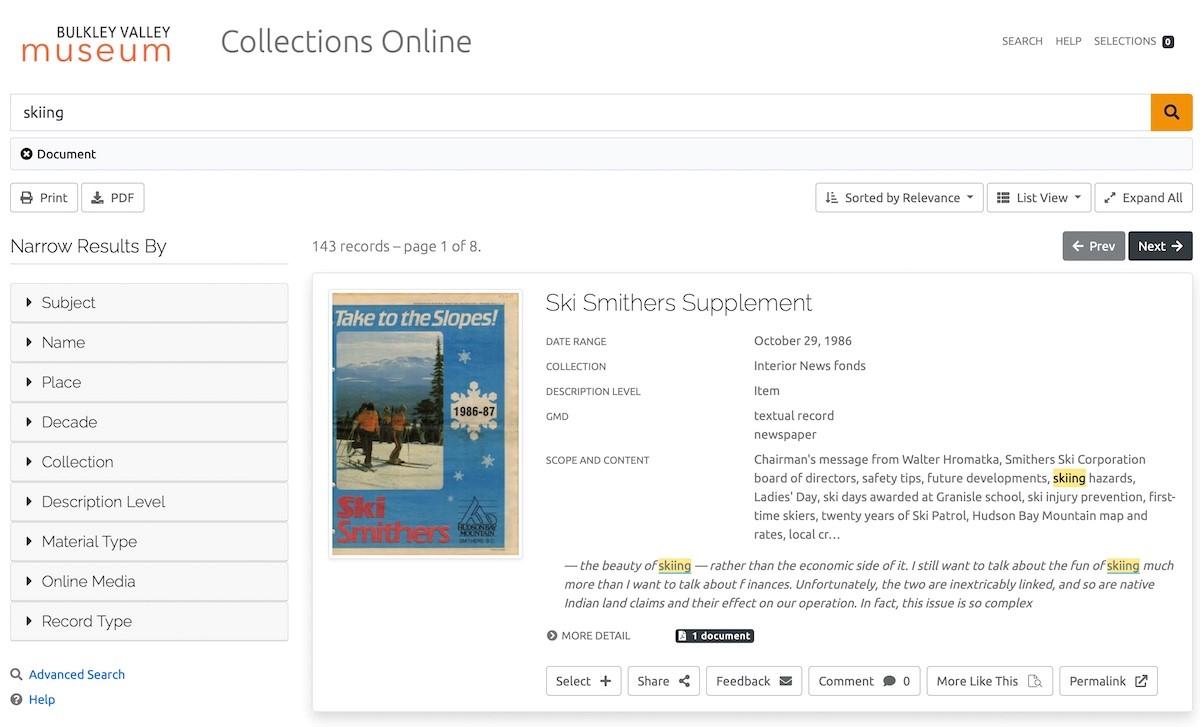 The search engine contains records for over 14,000 archival and museum holdings, including over 9,000 digitized historic photographs. Highlights of the collection include information on:
area railroads and the Grand Trunk Pacific Railway;
fossils, rocks and minerals and the natural history of the area;
telegraphs;
farming and agriculture;
oral history recordings;
maps, plans and large format documents; and
records from Smithers, Telkwa, Moricetown and Hazelton towns.
In 2021, the site was upgraded to the newest version of our Andornot Discovery Interface, with a refreshed graphic design and new features such as a facet explorer to aid researchers in finding relevant names, topics and places; a large image zooming feature to smoothly zoom in and out of maps and plans, without having to download a large image; and a flipbook-style viewer for documents, recreating the experience of paging through a newspaper or magazine. As well, the Disqus commenting system encourages discussion of resources in the site, such as to help identify photographs of people whose names have been lost to history.
Our new website is part of the Museum's ongoing efforts to make its collections more accessible to our local communities, enabling users from anywhere in the Bulkley Valley, or anywhere in the world, to learn about our local history.


We are 30-60 minutes away from some of the communities we serve and collect from, so having our collections online is really going have an impact on access to history for local researchers and for use in the classroom by students. Kira Westby, Curator, Bulkley Valley Museum
The Bulkley Valley Museum was one of several recipients of the Library and Archives Canada Documentary Heritage Communities Program, which provides grants to select organizations for projects such as this. They join a growing list of Andornot clients who have selected the Andornot Discovery Interface to make their collections searchable online.
Contact Andornot to discuss a similar project for your museum or archives.