Inmagic DB/TextWorks combines a database management system with powerful search capabilities, and can be customized and managed by non-IT staff to organize information and share knowledge throughout an organization.
With its high-speed fielded search engine delivering precise results, DB/TextWorks has become the popular choice for managing all types of content - documents, images, corporate records, audio, video and image files - by thousands of organizations worldwide.
Andornot has been an authorized Inmagic Partner since our founding in 1995 and continues to develop innovative solutions with DB/TextWorks at the core.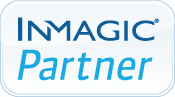 Andornot's Starter Kits for DB/TextWorks provide pre-built, proven databases, reports, search screens and data entry forms for managing the collections and operations of a typical small library, archives or museum.
View a list of features added to DB/TextWorks in each version, and learn more about other Inmagic software.
DB/TextWorks is available for on-premises installation or through our managed hosting service.